In Lieu of Favors: 'Come Together' to Battle Hunger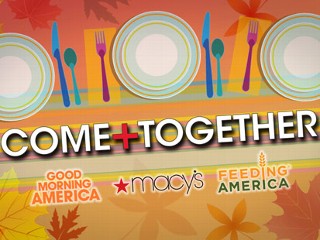 One of the questions we always get from our brides and grooms is what should we give as a favor that will not get thrown to the side or consumed. You want it to be a lasting memory. I always recommend making a donation to charity in honor of your guests. It brings attention to a cause and you help to make a difference with your contribution.
We are always looking for alternatives to suggest and as I watched the news this morning, I was happy to see this great idea: "COME TOGETHER" to Battle Hunger.
Macy's
,
Good Morning America
and
Feeding America
have teamed up to provide an initiative to feed millions.
Macy's
is matching your donation and trying to reach 10 million meals. If you host a party (i.e. your wedding, your shower, you rehearsal dinner etc.)you donate monies your guest donate or you can just decide to make a donation in their honor, Macy's will match what you raised.
If you were to use this at a wedding, you would only need to mention the donation on your menus, in your programs or you could have little cards or labels printed. Your guests will definitely find the gesture more memorable than a favor.